What Stevia is?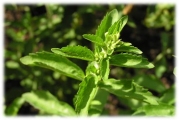 Stevia is a genus of between 150 and 200 species of herbs and shrubs in the sunflower family (Asteraceae), native to subtropical and tropical regions from western North America (with several species found as far north as Arizona, New Mexico, and Texas) to South America. The species Stevia rebaudiana, commonly known as sweetleaf, sugarleaf, or simply stevia, is widely grown for its sweet leaves.


Stevia as sweetener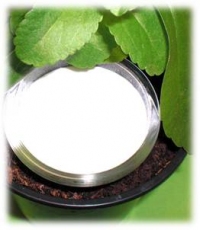 As a sweetener and sugar substitute, stevia's taste has a slower onset and longer duration than that of sugar, although some of its extracts may have a bitter or licorice-like aftertaste at high concentrations.
Stevia rebaudiana grown on 1 hectare permits to obtain 70kg of Steviosides, and have up to 300 times the sweetness of saccharose. This sweetener power is given by stevia leaf extract, which have not the same properties than stevia leaves alone. This extract is used as sweetener and contains steviol glycosides as stevioside, rebaudioside A and other components.
If you want to know more about stevia, her applications and properties, join the WSO Committee. We can provide you detailed scientific information and the latest advance on stevia research.
You will find more information about membership just here.