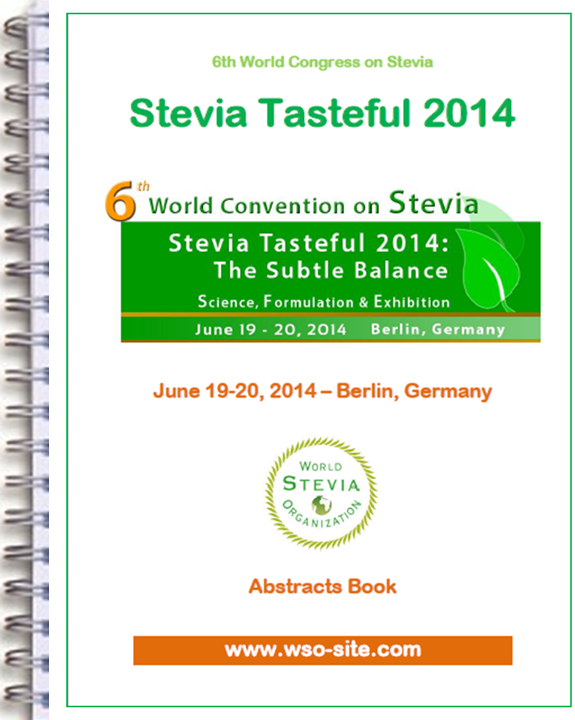 The abstracts book of the 6th World Congress on Stevia Tasteful 2014 groups all abstracts from speakers but also for posters presented during the conference.
Among abstracts presented:
Metabolic Syndrome, Cancer and Neuro-Degenerative Disease: Where is the Red Line? Stevia & Preventive Medicine: The Perfect Target

Stevia and its Impact on Health - Food or Medicine?

Effects of Rebaudioside A on Adipocyte Function

Stevia Rebaudiana Improves the Antioxidant Activity and Palatability of Green Coffee Extracts

Effects of Stevia Extracts on Oral Biofilms

An Efficient in Vitro Regeneration System and Synthetic Seed Production in Stevia

Stevia as an Innovation in the Food and Beverage Sector

Molecular Determinants of the Sweet-Bitter Janus Head of Steviol Glycosides and Development of Novel Quantitation Tools

Reduction of Bitter Aftertaste in Stevia Extracts via Specific Enzymatic Conversion

Insight in trade-offs with the Sensus Sweetness Tool

Green Sugar® – A Healthy Sugar, Natural Non Caloric Sweetener used in the Human Nutrition

'Green Stevia' – A Natural Sweetener for Organic Food Products – A Danish Innovation Project

In Vitro Culture & Acclimation Process of Stevia Rebaudiana

Introducing Stevia to Turkey: A New Crop & Product

Photosynthetic Activity of Stevia Rebaudiana Plants from In Vivo & Ex Vitro Conditions & its Relation to the Accumulation of Steviol Glycosides

Chemical Variations in Open Pollinated Stevia Rebaudiana Plants in the Mediterranean Region of Turkey

Determination, Separation, Analysis, Detection and Quantification of Steviol Glycosides & Further Constituents in Stevia Rebaudiana

Aqueous Extraction at Room Temperature of Steviosides Content in Dried Leaves of Stevia Rebaudiana B. using the Extractor Naviglio. Comparison with Conventional Hot Infusion

Glycosides from Stevia Rebaudiana Leaves: A Comparison Between Supercritical CO2 Extraction and Solvent Extraction

All you Need to Know about Stevia Glycosides Extraction & Separation
To order this abstracts book in PDF version, please click here.