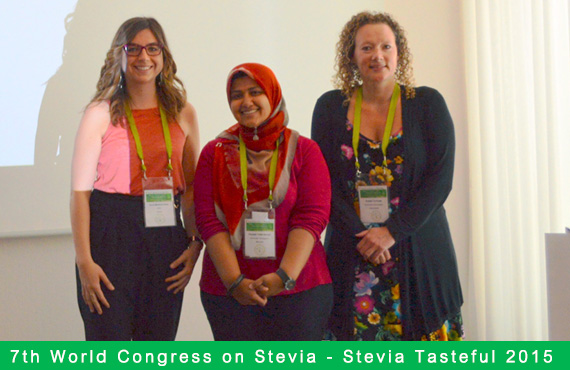 On behalf of WSO Committee, we are pleased to announce the winners of the three awards discerned during the 7th World Convention on Stevia, which was held in Berlin on June 11-12, 2015.
Dr Nuria Martinez-Saez was awarded for her scientific contribution about: "Reduction of After-Taste in Innovative Biscuits Formulations Made with Stevia"
Dr Evelien Te Poele was awarded for Stevia Innovation 2015. She presented a talk on: "Efficient Enzymatic Transglycosylation of Rebaudioside A using GTF180- Δn (Mutant) Enzymes of Lactobacillus Reuteri 180 Yields A Rebaudioside A Glucoside with Improved Taste"
Dr Fauziah Tufail Ahmad was awarded for her scientific contribution and her studies about "Effect of Different Drying Methods on the Quality of Stevia".
For more information, please visit www.wso-site.com